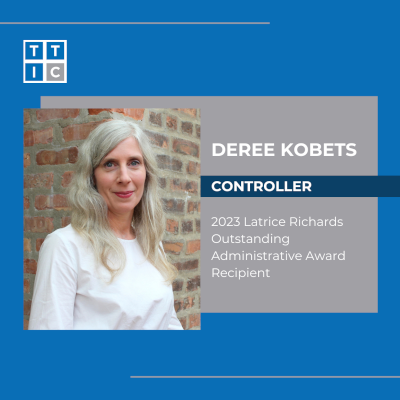 2023 Outstanding Administrator: Deree Kobets
Deree Kobets, TTIC's Controller, received the 2023 Latrice Richards Outstanding Administrative Award, which was announced at TTIC's 2023 Diploma and Awards Ceremony on Sept. 19, 2023. This award is given each year to recognize an administrative staff member's hard work and dedication, and the recipient is chosen based on nominations from the TTIC community.
Kobets joined the TTIC staff in November of 2018. Prior to joining TTIC, Kobets was a not-for-profit financial consultant for a consulting firm. In March of 2018, the consulting firm assigned her to TTIC to assist with financial accounting. Kobets learned she enjoyed working in an academic setting, especially in the exciting field of computer science.
"When I received the offer to join TTIC, I couldn't refuse," Kobets said. "I also felt very included in the community."
Some of Kobets' responsibilities include monthly accounting processes, grant expense reports, and leading TTIC's financial and grant audits on an annual basis.
"I spend most of my day working in NetSuite and Excel: entering revenue and expense transactions, ensuring expense reports and other expenses are compliant with TTIC and federal policies, processing expense reports and credit card reports, reconciling accounts, paying bills, processing payroll and employee benefits, to name a few," Kobets said. "I took on the full responsibility of implementing our current accounting and grants tracking system, NetSuite from requirements gathering to deployment in 2020."
Improving processes, Microsoft Excel, and an "extra large computer screen [to] look at multiple documents and sheets at one time" are some of Kobets' favorite aspects of her role.
"I also love having a successful annual financial audit!" Kobets said.
Kobets' dedication and enthusiasm help to serve the mission of TTIC. Her work and support are important in ensuring the Institute runs smoothly and efficiently.
In her free time, Kobets enjoys gardening, recycling, and caring for people experiencing homelessness.
Kobets received her bachelor's degree from the University of North Carolina at Chapel Hill and her MBA from the Kellogg School of Management at Northwestern University.