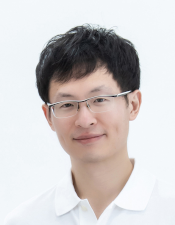 Alumni Highlight - Professor Hao Tang
Since graduating from TTIC in 2017, Professor Hao Tang has begun a successful career in academia. After earning his PhD, he served as a postdoctoral associate in the Spoken Language Systems Group at MIT for three years, and he is currently a lecturer at the University of Edinburgh, in the Institute for Language, Cognition and Computation. His main area of research is speech and language processing.
"There are a lot of good faculty members here, and because of that, you get a lot of quality students as well. There are other places which I've had offers from, but I would have been the only one working on speech, basically. I wanted to be in an environment where I could have all of the resources I wanted, and talk to all of my colleagues and collaborate. That's why I chose to join the University of Edinburgh," said Prof. Tang.
He became interested in speech and language processing in 2006, during an internship at Academia Sinica, the national academy of Taiwan, in the Intelligent Agent Systems Lab. This internship involved research in question answering, which was a very early stage of natural language processing.
After completing a year of compulsory military service, he decided to pursue a master's degree and further explore research in speech. He credits the trajectory of his career path to a little serendipity, as he was originally on the waiting list for his master's program at National Taiwan University. After somebody decided not to go, a space opened up for him, and he was able to continue pursuing this work.
"Speech and language is already applied to many, many places. You have probably used the speech recognition technology in cell phones, and many people have an Amazon Echo in their home. There are many other applications, like automatic captioning for TV broadcasting. You get really natural speech these days out of your GPS, let's say, or announcements at the airport. I feel like it's almost everywhere, and people don't notice," said Prof. Tang.
He began to think about becoming a professor during his fifth year as a student at TTIC. At the time, research in speech and language technology was gaining momentum, and Prof. Tang started to publish more papers and network with more people in the speech field. He credits his PhD advisor, TTIC Professor Karen Livescu, with setting a good example for him.
"She invested a huge amount of time on me. I was her first PhD student, and she spent a lot of time giving me feedback on papers, talks, presentations, general advice, or even peer reviewing. It's just transformative. I don't have a way to give back anything to her, but I feel like maybe the best way is to become a professor and try to educate students of the next generation, that's probably the best way I can contribute back," he said.
Along with his close working relationship with Prof. Livescu, the diverse and intimate cohort at TTIC also lent to his growth as a researcher. With people working in several different areas of computer science, he had the opportunity to build strong relationships with colleagues that in a larger program, he may not have had the opportunity to meet. He fondly remembers sitting in his cubicle on campus, which was right by the stairs. Whenever somebody walked by his cubicle, it was an opportunity to say hello, and start a conversation about their current work. He also enjoyed all of the talks during hiring season, and attended as many as possible.
One of the academic accomplishments that he is most proud of is his PhD thesis project, a simple prototype for speech recognition. He wrote every line of code himself, in C, and it relies on no other software packages, except for the standard library. "That, to me, is the biggest accomplishment because by the end of the day, I understand everything, like every single thing. It's actually a working system, and it does well in practice. I understand a lot of the internal workings, so I get to teach the internals to others," he said.
His advice to current PhD students and recent graduates is to stay proactive when it comes to seeking opportunities. "I like this old saying, chance favors the prepared mind. You don't want to wait until the chance comes to you. If you work on more than one project, make a lot of connections, do a lot of internships, and so on, you increase your success rate. It's not a guarantee that everything will work out, but the more you try, the more likely things will happen. And the other thing is, if you are on the job market, apply to many, many places. That's the one thing I learned, you just don't know where you'll end up. You also don't know what type of people they're looking for, so don't be too confident and apply to a lot of places," said Prof. Tang.
In his current role as a lecturer, he particularly enjoys teaching. He believes that revisiting material with students helps him to understand it more deeply. The better his understanding, the better he can pass that information on to his students. Prof. Tang teaches a research methodology course at the University of Edinburgh, which helps him to reflect on his own research methods, and how he wants new students to conduct research. His time at TTIC greatly impacts how he advises his PhD students, and he enjoys building strong connections with them.
His main goal for the future is to keep learning. "I sort of believe in serendipity, like I talked about before. I don't have a particular goal in mind. I mean, there are deadlines. For example, you will need to write grants, do reviews, and so on. But I believe in the process. As long as you think hard and deep about your problem, and you learn new things every single day, then the results will follow," he said.