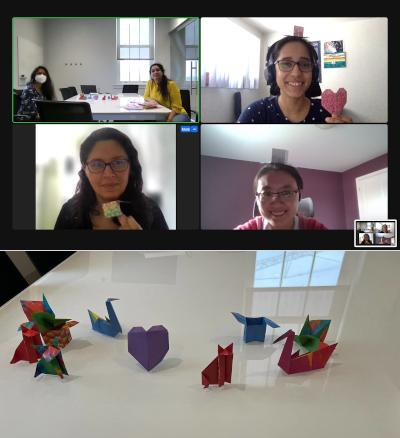 Women@TTIC's Spring 2022 Meetup was held over Zoom on May 18.
Women@TTIC is a group of women faculty, research assistant professors, courtesy faculty and PhD students at TTIC. The group originally started in 2017 and was run by faculty members to create a community for women at TTIC until students Ankita Pasad and Freda Shi volunteered to take over leading the group. Pasad and Shi reach out to new women members of the TTIC community and add them to the Women@TTIC Slack channel.
"When I came to TTIC, I was pleasantly surprised at how lively it is for a smaller institute," Pasad said. "There are many internal groups."
Before the pandemic, the group met about once a quarter to connect in person along with staying connected and communicating through Slack. Due to the pandemic, the group has been meeting virtually over Zoom to play games such as Balderdash and Escape-Room and to catch up with each other.
Their most recent meeting was on May 18 for the spring Women@TTIC meetup, where they used student body funds to hold a virtual origami session. Pasad said she thought of the idea when she did a virtual origami session at an internship. "I found it very relaxing, meditative and fun," Pasad said. "I thought it would be good for a Women@TTIC meetup."
The group also occasionally holds joint student events with UChicago Grad Women in Computer Science (GWiCS) to allow more interdepartmental interaction.
To inquire more about Women@TTIC, email Pasad, ankitap@ttic.edu, or Shi, freda@ttic.edu.